Jennifer Lopez and Ben Affleck are selling their Beverly Hills property with Coldwell Banker.
Spectacular property for sale for 85 million dollars.
October 18th 2023
The luxury real estate world is abuzz with the news that Jennifer Lopez and Ben Affleck have entrusted Coldwell Banker to list their spectacular Beverly Hills residence, which is currently on the market for the astonishing sum of 85 million dollars.
This impressive home served as the famous couple's retreat before they acquired their new property in June of last year. Situated on approximately 4,800 square meters of land, this spectacular residence boasts 12 bedrooms, 17 luxurious bathrooms, and two garages equipped with elevators to accommodate up to six cars. In addition to the main house, the property includes an annex building and a charming pool house.
The sale of this dream property is being handled by Jade Mills of Coldwell Banker Realty, a renowned professional in the luxury real estate world. One of the property's standout assets is its location at the end of a cul-de-sac in one of Beverly Hills' most prestigious areas, ensuring absolute privacy.
The main house, with six bedrooms and bathrooms, opens to a formal entry where residents and their guests are welcomed with elegance. It also features a formal living room with an office and a luxurious dining room that can accommodate 12 diners, perfect for memorable dinners.
Upstairs, the master suite offers a spacious bathroom, double closets, and a private balcony overlooking the garden, creating a dreamy space for the owners. For home movie nights, fortunate residents can make use of an approximately 465-square-meter theater equipped with Dolby audio.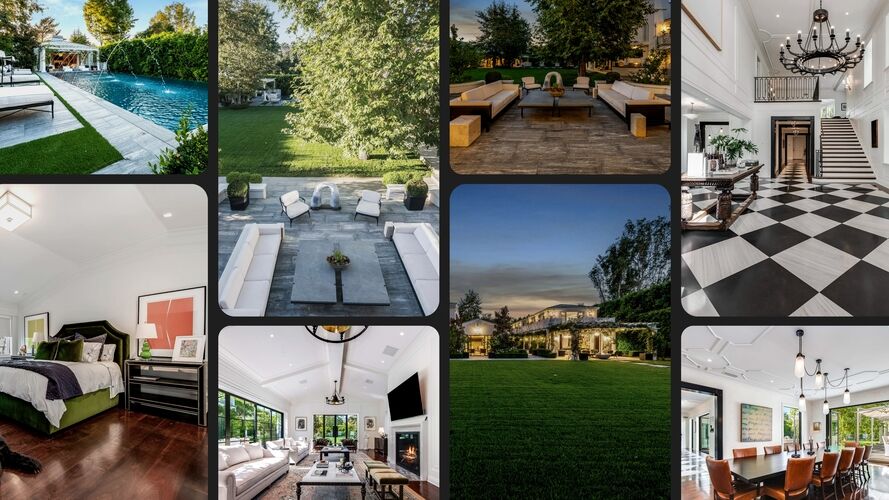 Additional rooms are located in the annex building, alongside the sauna and gym, providing a perfect environment for relaxation and well-being. Outdoors, the property features a pool house of approximately 130 square meters, including a bedroom, a bathroom, and a living room. In addition to the pool and spa, the outdoor space offers a kitchen, making it the ideal place to entertain guests and enjoy memorable moments.
Coldwell Banker, with real estate advisors like Jade Mills, takes pride in serving renowned clients such as Adele, Avril Lavigne, and Barack Obama. This trust placed in Coldwell Banker is a testament to the network's unwavering reputation in luxury real estate transactions.