The island
Ibiza is a Spanish island in the Mediterranean Sea and is part of the Balearic Islands, together with Majorca and Minorca. Ibiza has an area of 572 km² and is the second most populated Balearic island. It is renowned for its beautiful coves, mountainous landscape and its nightlife.
The districts of Ibiza
In Ibiza there are three clearly differentiated areas. Firstly, there is Ibiza town, where you will find the town of Ibiza with its great variety of cuisine, cultural attractions and the port of Ibiza. The area of Sant Antonio, with its small port is where most of the nightclubs are located. For this reason, this area is the busiest for tourists who travel to experience the island's vibrant nightlife. Finally, there is the area of Santa Eulalia del Rio, which is characterised by being the most peaceful area of the whole island where the land is full of lush vegetation.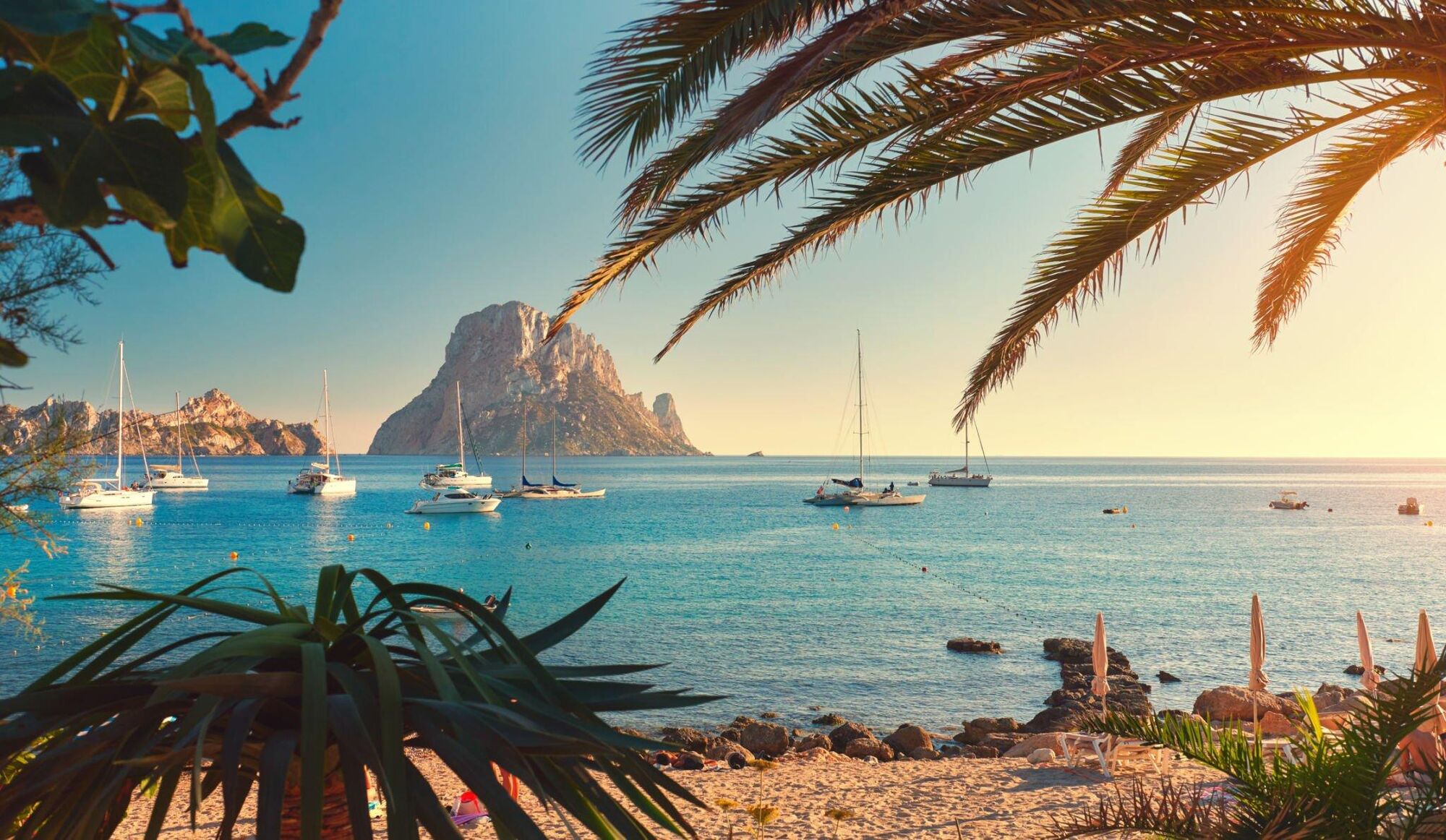 Featured properties in Ibiza
Nature in Ibiza
Ibiza offers a natural environment of great scenic wealth which can be discovered by horseback, bicycle or on foot. The island has incredible nature and you can find mountains full of greenery just a few metres from the water on one of the beaches.
Ses Salines Natural Park
The Ses Salines Natural Park is a natural reserve that encompasses a series of marine and land habitats, with valuable cultural and ecological landscapes. This place is also a resting area for all those birds that are getting ready to migrate.
Es Vedra Nature Reserve
The territory is made up of different islands, marine environment, beaches, forests, cultivated fields and represents the highest elevation on the island of Ibiza.
Sports and activities to do in Ibiza
Outdoor sports
Thanks to Ibiza's varied terrain, you can do many different types of sports including cycling, kayaking in the most beautiful coves on the island, hiking, quad biking and exploring the seabed of Ibiza.
Sports facilities
Although Ibiza is by no means a large island, it has more than 10 sports facilities, such as the Es Viver municipal sports complex and the Can Misses sports facilities.
Gastronomy in Ibiza
Local dishes from Ibiza
Ibiza follows the Mediterranean cuisine although it has its own local dishes, some of these include "Bullit y guisat de peix" which is similar to a fish stew. Sofrit pagès is a stew made with meats, sobrassada and other local sausages and potatoes with different spices. Finally, there is Flaó, which is an Ibicencan cheesecake.
The cured meats and cheeses of Ibiza
Sausages such as sobrasada and goat's cheese are very typical on Ibiza. There are small companies on the island that make these traditional products with the best ingredients.
Culture in Ibiza
Ibiza is much more than a beautiful island paradise with a renowned nightlife.
The wall of Dalt Villa
The current wall of Ibiza was built at the end of the 16th century and was commissioned by the Spanish Crown. The wall surrounds all of what is known as Puig de Vila and extends over an area of 10 hectares, with a perimeter of 1,800 metres. It is currently considered a UNESCO World Heritage Site under the title "Ibiza, Biodiversity and Culture".
Museums in Ibiza
Ibiza has several museums, the best known of which are Madina Yabisa la Cúria in Dalt Vila, which is dedicated to the Moorish period of Ibiza. There is also the Museo d'Art Contemporani, Es Pujol, an outstanding private museum, or the Necròpolis del Puig des Molins which is a Punic cemetery and museum near the centre of Ibiza town.
Transport and connections in Ibiza
Public transport
Ibiza has a network of buses at the disposal of the public in all areas of Ibiza. There are a total of 34 bus lines, most of which start and end in the main towns of Ibiza, Sant Antonio and Ibiza town.
Connections
Ibiza has extensive taxi services. It also has very good connections by sea and air. Ships arrive from the port of Ibiza, mainly from across Spain, and flights from many European destinations are constantly arriving at the airport.
To visit the island of Formentera, there are various boats and ferries available to reach it in less than 45 minutes.
Family life in Ibiza
A haven for families
Ibiza is a perfect place to live as a family because of the many activities available for everyone. On the island there are a large number of companies that specialise in organising children's parties and there are also companies that offer activities such as pony riding, surfing or even a day in the Acrobos Adventure Park.
Schools in Ibiza
On the island of Ibiza there are a total of 11 pubic and private schools. Among them are the Mestral school, the Sa Real school and the Sa Bodega school.
Real estate market in Ibiza
Price per m2 in Ibiza
Currently the price per m2 in Ibiza is 5.169 €/m2.
Real estate availability
The highest priced properties are in Formentera, followed by Ibiza town, Sant Josep, Santa Eulària and finally Sant Antonio, where the cheapest flats are to be found.
Many of the properties that exist on the island are luxury properties and this is due to the fact that many of the buyers are wealthy young people and in some cases also celebrities.
As for the type of property, due to the vast amount of natural land on the island, there are many large houses. In contrast, in the city of Ibiza or in the smaller neighbourhoods, most of the properties are newly built flats.
Work opportunities
Ibiza is an island full of companies and small businesses. It is known for its abundance of employment opportunities, especially in the summer between May and October, when the island receives hundreds of tourists.
In addition, thanks to the ease of working on the island, there are always applicants available. If you are from the European Union, you only need your ID card or passport to apply for a job.
Security in Ibiza
Ibiza has a very low crime rate and is therefore considered a safe and peaceful island where no serious incidents occur.
Frqeuently Asked Questions
What can you find in Ibiza?
Ibiza is a wonderful city by day and night. It is colourful and elegant with an abundance of eccentrics that add to its charm. Located in the southern part of the island, Ibiza is famous for its vibrant nightlife and endless nights.
Is it safe to live in Ibiza?
Ibiza has a lower crime rate than the European average, making it a safe destination for year-round living. The island's secluded homes and stunning natural surroundings provide the peace and quiet that many city dwellers look forward to.
What is life like in Ibiza?
Living in Ibiza is synonymous with tranquillity. There is no place where you can enjoy the relaxation and fun of life as much as here. After work, locals would rather go to a spa, have a cocktail or dine in a fancy restaurant - and they know how to have fun! Their relaxed lifestyle makes yoga and meditation the most popular activities here.
What is family life like in Ibiza?
Ibiza has all the ingredients to be a great family destination, and it really is. Its history, culture, beaches and nature make for a wonderful holiday. Ibiza offers endless possibilities for families who want to take a break, but at the same time discover new places, explore unknown corners, play sports or do activities together. You can learn about ancient civilisations such as the Phoenicians, Romans, Arabs and Christians. Participate in events where you get to know other traditions: shopping in quirky markets; explore the trails by bike, on foot or on horseback; excursions by train or tourist boat; visit the caves and during the summer you can enjoy the water in the water parks or on the many beaches.
Coldwell Banker has an extensive portfolio of properties in the best locations in Ibiza