Everyday life in Les Corts
There are public libraries, shopping centres, bars, cultural centres, churches, restaurants (some with Michelin stars), gyms, hotels, schools, barbershops and pet shops, constantly bustling with people and characters.
The district of Les Corts
Les Corts is both one and a thousand neighbourhoods at once. In some places it looks like a small village, quiet and tame. In other places you can hear the roars with thousands of spectators from the Barça stadium. Such is the district of Les Corts, so Barcelona, so Catalan and so European. Complete with its Parisian corner of Galileu and Europa; its Pasaje Tubella, which resembles a crossing of Taormina, in Sicily; Calle Nicaragua, which seems to have been taken from the Buenos Aires neighbourhood of Palermo; or the Place de la Concorde, which is Gràcia in a state of grace!
The streets of Les Corts
This district is full of colourful contrasts: small, narrow streets, with wide avenues through which the tram runs, and intimate pedestrian streets. The variety of its estates, some huge, others subtle, old houses and elegant mansions – of the most magnificent kind – in Pedralbes. Many of its streets, promenades and squares are reminiscent of Paris, or villages in Italy, or even Buenos Aires.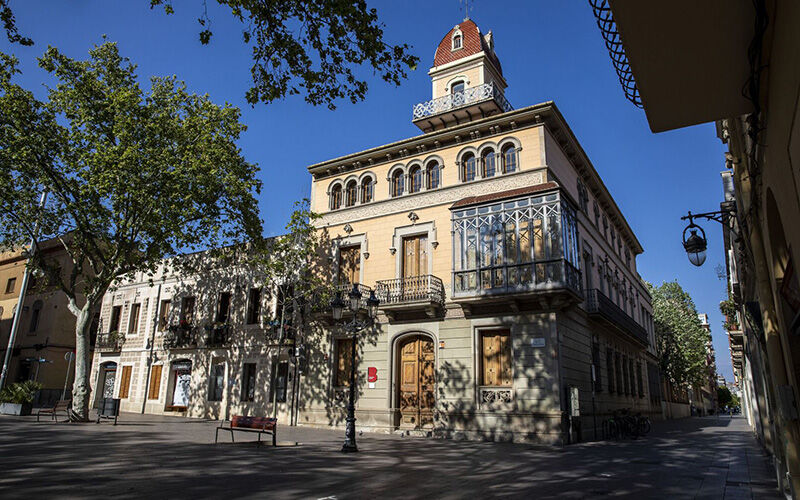 Featured properties in Les Corts
Nature in Les Corts
"Between the shopping avenue of Avinguda Diagonal and the buzz of the Camp Nou football stadium".
As the City Council says on its website, "between the shopping-lined Avinguda Diagonal and the buzz of the Camp Nou football stadium, the district of Les Corts unfolds as a landscaped Barcelona to be discovered and lost in, halfway between the rural past and the elegance of a residential neighbourhood."
Other attractions in Les Corts
Two other highlights of the neighbourhood are the Casa de la Maternitat with its Maternitat gardens, a large park dotted with modernist buildings, filled with sunshine and a peaceful atmosphere; and the new Can Rigal park, magically undiscovered and very attractive gardens equipped with sustainability measures providing a real haven for all those who wish to enjoy greenery and peace in the middle of the city. In the Zona Universitaria next to Avinguda Diagonal, there are two other gardens, among the most beautiful and interesting in the city. The Parc de Cervantes, a unique spectacle in spring, and the gardens of the Pedralbes Palace, stately gardens par excellence. Last but not least, in the upper area, around the Royal Monastery, the district of Les Corts is home to the Pedralbes neighbourhood, possibly the city's most prosperous neighbourhood, where Barcelona's most affluent bourgeoisie now live.
Sports and activities to do in Les Corts
Sports facilities
There is a wide range of sporting facilities on offer: football, rugby, tennis, hockey, gymnasiums and bowling, to name but a few.
Numerous gyms are on offer: Holmes Place Les Corts, in a space concessioned by the City Council, on the Travessera. The various DiR centres, Up&Down, on Numancia, and DiR Campus, on Av. Marañón, with 4,700 m2 of facilities and 70 activities, and Anytime Fitness, which is open to the public 24 hours a day (at regular times). For tennis fans, the David Lloyd Club Turó, and for lovers of the Sport of Kings, the Real Club de Polo Barcelona. Completing this list is the Aristides Maillol Les Corts Municipal Sports Facility, which is very close to FCB.
Camp Nou
Probably the most emblematic is the Futbol Club Barcelona which, in addition to the Camp Nou, has the Palau Blaugrana which hosts indoor football, basketball, roller hockey and handball; a Mini Estadi for football, as well as an ice rink.
Gastronomy in Les Corts
Delicious restaurants in Les Corts
A 5-minute walk from Coldwell Banker Eminent is the Michelin-starred restaurant Cocina Hermanos Torres, housed in a former tyre warehouse at Nicaragua and Taquígraf Serra.
At the other end of the "chic" spectrum, but with the same love and passion for cooking, our friend Josep treats us daily to the most traditional Catalan specialities from his little restaurant La Trufa, on Carrer de Numancia.
Culinary delights on offer
Of course, the gastronomic selection in Les Corts does not end there. There are dozens of restaurants, including the legendary The Terrace in the Fairmont Rey Juan Carlos I, with its excellent menu of Mediterranean dishes; Bimba's, in calle de Flos i Calcat, for Italian dishes; Buj, with Spanish cuisine, in Provença; or Arrosseria Xàtiva Les Corts, a major establishment in the delightful little street of Bordeus.
Culture in Les Corts
Cultural spaces
The district of Les Corts offers a wide range of alternatives for developing any aspect related to culture. This can be seen in its civic centres, rehearsal rooms, auditoriums and libraries. In this way, Les Corts brings together instrumental music and singing as well as literature and language, along with visual art, painting and design, as well as the omnipresent traditions and the resulting festivals. Sport being culture, the Camp Nou is a spectacular stadium where almost one hundred thousand people attend the matches that, in regular seasons, take place week after week.
Transport and connections in Les Corts
Public transport in Les Corts.
Public transport connections between Les Corts and the rest of the city are very good. For example, if you take the green metro line (Line 3), you can reach the city centre in 10 minutes. Apart from the metro, you can also take the tram that runs along Avinguda Diagonal to the outskirts of the city.
Sustainable mobility
It is also very easy to discover Les Corts district on foot, as it is the third smallest district in the city. You can reach the famous Plaça de Espanya and the Parc de l'Espanya Industrial and the Magic Fountain on Montjuic in 25 minutes by walking. The Royal Palace and its gardens in Pedralbes are only 20 minutes away. The city is entered via Av. Diagonal, and from there you have access to the Ronda de Dalt, Ronda Litoral and the motorway.
Family life
Who lives in Les Corts?
Les Corts is a popular family district, characterised by its educational, cultural, health, sporting and social facilities. It is difficult to think of any other place in Barcelona more suitable for a family to grow happily, harmoniously and safely.
Schools in Les Corts
The range of schools is so wide and diverse (public, charter and public schools at all levels, from pre-school to university) that it is difficult to list them all in a brief summary. Just to name a few, the following schools (a total of 72): St. Peter's School (private), Lyceé Français de Barcelone (private), Zürich Schule Barcelona (private).
Places to visit with the family in Les Corts
Family fun is guaranteed with its countless squares, play and entertainment centres for children and teenagers, escape rooms and cinemas, such as Gran Sarrià Multicines, Cinesa Diagonal and Zumzeig Cinema, among others.
Real estate market in Les Corts
Price per m2 in Les Corts
Prices evolve from time to time, but it is safe to say that, in terms of flats, as of November 2020 it costs between 3,800/4,500 €/m2 for a flat to be refurbished and between 4,300 and 4,800 €/m2 for a refurbished, high quality flat.
Real estate availability
Especially in the district of Les Corts, the typology consists of buildings with horizontal division, with 2 to 4 flats per floor, and a surface area ranging from 70 to 120 m2. Always speaking in general terms. The most common are replacement operations, i.e. sales for repurchase, always in the same neighbourhood. In this sense, and not without a certain amount of humour, we usually say that the neighbourhood is somewhat endogamic: whoever sells in Les Corts wants to buy in Les Corts. Once you get to know it, you'll understand.
Work opportunities
Les Corts is a service district and as such offers jobs in all types of businesses in the sectors of education, sports, leisure and recreation, commerce, IT, catering, hotels and restaurants, car dealerships and services, and real estate among many others.
Security
The district is at the top of all rankings in terms of peace, comfort and quality of life among Barcelona's neighbourhoods.
Frqeuently Asked Questions
What can you find in Les Corts?
Les Corts is a mainly residential area, well connected to the city centre and with many parks, green spaces and squares. The neighbourhood is known primarily as the student and business area due to the numerous universities and companies that have a presence in the area.
Is it safe to live in Les Corts?
The district is at the top of all rankings in terms of peace, comfort and quality of life among Barcelona's various neighbourhoods.
What is life like in Les Corts?
he neighbourhood is characterised by a large number of green areas, quiet squares, a variety of services and an attractive range of restaurants. Les Corts is one of the favourite districts for those who value peace and quiet but also proximity to the city centre.
What are the facilities in Les Corts like?
All the neighbourhoods and districts in the upper area of Barcelona have an excellent range of services, from good health centres to the best schools. Les Corts meets all the needs of its residents with no need to leave the district.
What is family life like in Les Corts?
Les Corts is characterised by being a family district. It is equipped with a wide range of educational, cultural, health, sports and social facilities, which makes the district a perfect option for raising a family in a quiet and safe environment. There is a wide range of schools on offer, including public and private schools at all educational levels.
Are there other places near Les Corts that are also worth exploring?
The must-see places to visit in the district of Les Corts are: the FC Barcelona stadium, the Pedralbes Monastery, the Pedralbes Palace Gardens and the magical Plaza de la Concordia, one of the most emblematic spaces in the district. It is a quiet square full of children in the morning and an ideal place to have a drink and enjoy a meal in the evening. Arantxa Sánchez, the members of Estopa and some FC Barcelona players and ex-players also have a property here.
Are there any interesting properties in Les Corts?
Les Corts is a district of large flats. In Les Corts, la Maternitat and Sant Ramon there is a predominance of large flats and in the district of Pedralbes there are generally single-family houses. The size of the houses tends to be larger than the average for Barcelona.
Buying a house vs. investing in real estate in Les Corts?
Les Corts offers a wide range of residential areas of different scales. There are always flats, houses, offices and shops for sale. Either way, whether to live in or to rent out, Les Corts is one of the districts with the best investment opportunities, as it will certainly not devalue.
What does Les Corts mean?
The name Les Corts derives from the Latin form cohors, cohortis, which means 'land' and 'rustic houses', i.e. 'farmhouses'.
What is the population of Les Corts?
Currently 82,588 inhabitants.
How is Barcelona divided?
From this moment on, the city of Barcelona is divided into 10 Municipal Districts. The current territorial division of the city is based on the same division of 10 municipal districts as in 1984.
What were the Catalan Cortes?
The Catalan Cortes or General Courts of Catalonia were the regulatory body of the Principality of Catalonia from the 13th century until the 18th century.